Resources for Starting a Family Conversation
It's vital for children to have access to literature that represents diverse experiences alongside depictions they can see themselves in. The phrase "mirrors and windows" was initially introduced by Emily Style for the National SEED Project. A mirror is a story that reflects your own culture and helps you build your identity. A window is a resource that offers you a view into someone else's experience. To become informed around issues of race and racial injustice, it is crucial to understand that children cannot truly learn about themselves unless they learn about others as well. To that end, we invite you to browse some of our materials highlighting black voices and experience, along with some curated resources that can help start conversations around current and historical events. 
---
Christopher Myers, artist, writer, and son of author Walter Dean Meyers, had this to say about representation in literature, discrimination and injustice. He writes against the backdrop of the 2016 American Library Association Conference in Orlando, Florida: 
In the aftermath of incidents like what happened at Pulse or in Charleston, Ferguson, Steubenville, or anywhere around the world where violence becomes the chosen language to translate inequality or difference or the desire for power, there is a need for stories to contain, to comfort, to process, to prevent. Each time a body falls, there ought to be a story there to catch them. Those stories will serve the humanity of their readers even better if we can get them into the hands of young people before the bodies fall. Well-told stories can make it so that no slur, myth, or bias can flatten the humanity of black boy, or Asian girl, transgender teen, poor family, or queer Puerto Rican dancing his cares out on a hardwood dance floor.
So I am thinking today of the relationship between two places among many I have called home and of the work that can be done between them. I am thinking of the worlds we open to young people when we foster stories that recognize the fullness of their humanity. How this fullness isn't easy, how flattening happens in even the best-intentioned tales. But I know that there are gathered a bunch of librarians, folks who care for story, who are about the business of asking hard questions. They are at a conference, a place where revolutionary thought can not only happen but be embraced. They stand not far from the site of a great tragedy, knowing that we have a part to play in preventing the next one.
You can read the entirety of his essay, Orlando, published in the Horn Book, a review of children's literature. 
---
Many families are asking how to frame conversations with their children and seeking resources about how to effect systemic change. Here are some that may be helpful:  
Author and illustrator Elise Gravel has a comic Explaining Racism to Kids.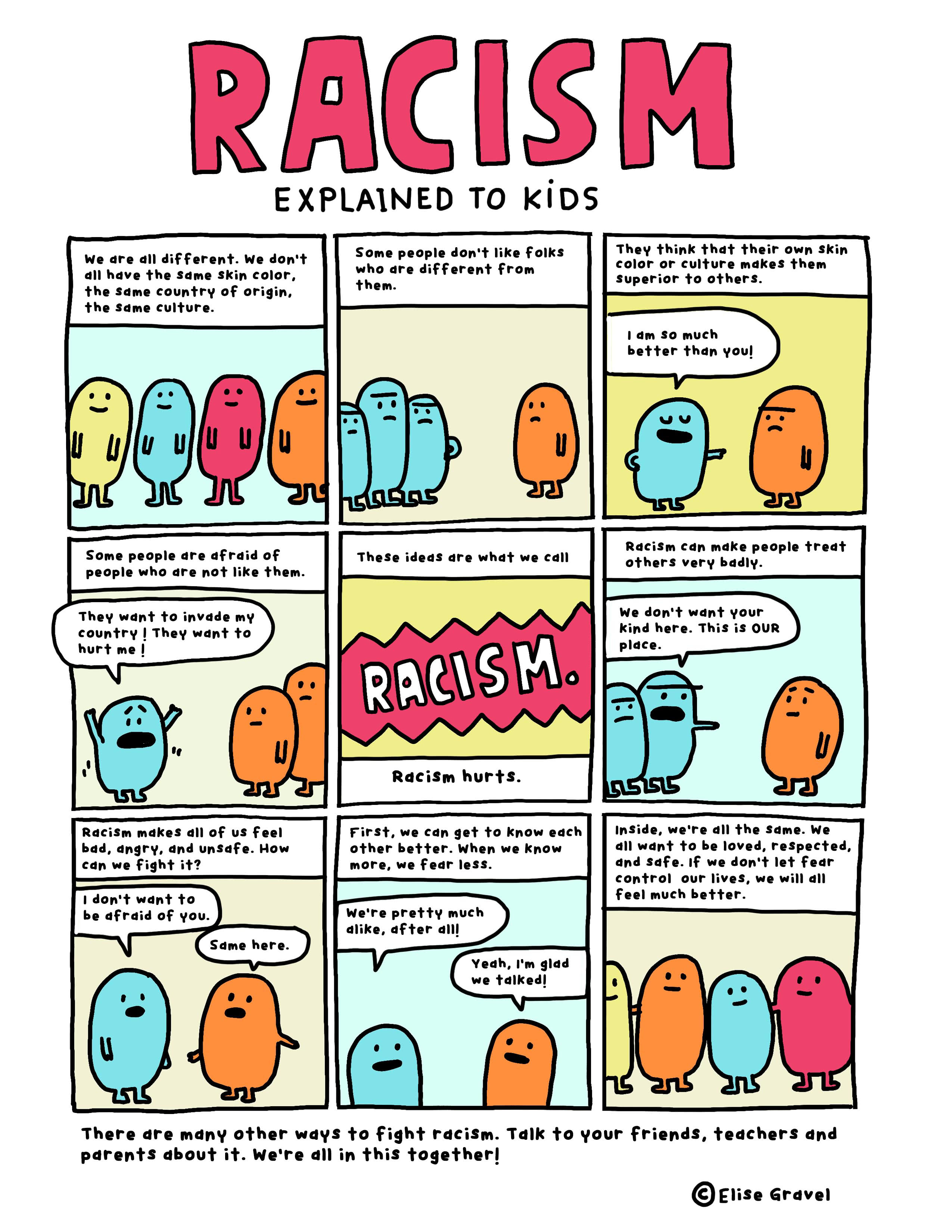 The Kojo For Kids podcast episode titled "Jason Reynolds Talks About Racism And The Protests" is a timely and informative exploration of the author's perspective on historical and recent events around the experience of racism in the United States. 
Jason Reynolds' keynote address to the Texas Library Association explores the concept of viruses, racism and antiracism, June 1, 2020.
Embrace Race is a nonprofit that aims to nurture resilience in children of color while helping all families understand racial inequity and fight for racial justice
The Child Mind Institute's recording of a Facebook Live event "Racism and Violence: How to Help Kids Handle the News" brings together two experts from the Child Mind Institute, "an independent national nonprofit that aims to improve the lives of children and families facing mental health and learning disorders. Kenya Hameed, PsyD is a Black clinical neuropsychologist at the Institute's Learning and Development Center. Jamie Howard, PhD is a White clinical psychologist who leads the Trauma and Resilience Service. Together they discuss supporting children through this difficult time." Find some of their strategies outlined here. 
Montgomery County Public Schools' Equity Initiative produced a guide, "Educators An Educators Guide to This Moment: Resources for Educators, Parents, and Students." 
The Center for Racial Justice in Education has complied resources for talking about race, racism, and racialized violence with kids. 
The mission of Teaching Tolerance is to help teachers and schools educate children and youth to be active participants in a diverse democracy: "Teaching Tolerance provides free resources to educators—teachers, administrators, counselors and other practitioners—who work with children from kindergarten through high school. Educators use our materials to supplement the curriculum, to inform their practices, and to create civil and inclusive school communities where children are respected, valued and welcome participants."
School Library Journal published an article entitled, "Educators and Race: A Conversation with Author Ijeoma Oluo on Tackling Systemic Racism in U.S. Education."
The Brown Bookshelf Project is highlighting summer reading selections and has a number of resources available such as their project 28 Days Later, "a month-long showcase of the best in Picture Books, Middle Grade, and Young Adult novels written and illustrated by Black creators."
The Maine Children's Alliance shares a resource list, "Let's Talk About Racism." 
Making Space with Christian Robinson is a series of YouTube videos created by the author and illustrator that explores different feelings and how to process them by creating art. (Highly recommended by Miss Megan!)
Talking about Race from the National Museum of African American History & Culture shares reflection questions, videos, and links to other resources.
Teaching Tolerance was created for educators, but parents may also find it useful to discuss race and ethnicity, and rights and activiism among other topics. The home page currently features articles about Black Lives Matter and Teaching about Race, Racism and Police Violence.
Talking to Children about Racial Bias from the American Academy of Pediatrics includes how parents can confront their own racial bias and a doctor's story of his encounter with racism as a 7-year-old.
Explaining the News to Our Kids from Common Sense Media offers tips by age.
---
Books Available at Thomas Memorial Library
Help explain race to kids with further reading resources. Some titles are available in our catalog, while others are currently on-order. A comprehensive list is coming soon!